Disaster Recovery History - Progress Details - Recovery Procedure
If you have all ready been through the recovery process OR
You became a customer after May 29th you may log in from this Login Button >>>>>>

---

PLEASE NOTE
You may see Historical Campaigns in your Campaign List
These are NON-FUNCTIONING Campaigns to be used for creating
rehash phone lists from campaigns you ran prior to our server outage



Please don't attempt to run Historical Campaigns
Please use campaigns created for you during the disaster recovery process
You will receive a pop-up dialogue when accessing Historical Campaigns
---
---
---












RECOVERY PROCEDURE
Our goal is to ensure that all accounts are restored to full working status as quickly as possible. Reviewing the information below will help you understand what occurred along with what has been accomplished. Please take a few minutes to review this information. Completing the short form below will further assist us in restoring your system to it's original state as quickly as possible. All systems have been restored with the exception of Caller ID's and Campaigns. We are in the process of going through all accounts adding Caller ID's and creating campaigns.












Please DO NOT create or attempt to create your own campaigns. This typically leads to us spending more time checking and correcting campaigns that may not be setup correctly. Audios must be placed in specific areas of the campaigns. DNC call assignment must be setup correctly. Instant Transfer needs to be installed to properly connect with your account at 800Link.

Please complete the form below, allowing us to restore your service as quickly as possible. You will receive a confirmation email when submitting the form. We will also email you when your campaign(s) have been restored.

Please only call in for support as it relates to getting your service restored. We will be using ALL resources in our customer support, Internet Technologies and engineering departments to restore campaigns, caller ID's and Instant Transfer within each account. We want to hear from you as needed, however want to ensure that we spend our time wisely so we can effectively communicate getting all service restored as efficiently as possible.
---
---
---
Notification History and Progress Reporting
---
NOTICE SENT OUT AT AT 4:10 AM Mountain Time on Friday May 27th 2016
-------------------------------------------------------
Subject: Urgent Notice From Dialer Central - Dale Finney

--------------------------------------------------------

At 2:00AM EST, our main US data center suffered a significant failure due to fire. As a result, servers which contain account information were damaged.

The Dialer Central platform will be offline Friday (Today). It is possible some systems could be restored as early as 12PM today. Engineering will continue working around the clock and through the weekend until all systems are fully restored.


In accordance with our disaster recovery plan, Dialer Central DOES have updated backups of all information however, each segment must be manually extracted and added to the new servers.


Your account and your sub accounts will also be effected and we suggest if your clients plan on using the system today or this weekend that you also contact them ASAP to inform them of this outage.


I fully understand the issues this could cause for you and we deeply apologize.


Please contact us anytime for updates or for any questions. Service will be restored as quickly as possible.


Sincerely,

---

---

---
UPDATE Sunday May 29th 2016
-------------------------------------------------------

As you may know, our primary US data center suffered a failure from a fire on Friday.

Our amazing engineering department has successfully restored 100% all services and accounts to our backup systems. Unfortunately, in some cases your users and campaigns will need to be recreated. Lists and caller IDs may also have to be re-uploaded or re-assigned.

Please see below for further details.

Ringless Voicemail Drops – Campaigns and Lists
Campaigns have been recovered to your account. However, your existing loaded lists might not be named with their original name and may no longer be assigned to your campaigns. You will need to re-assign the lists to your campaign(s).

IVR/Press ONE Transfer Accounts Campaigns & List
For IVR campaigns, all new campaigns and caller ID's will be created. WE ARE DOING THIS FOR YOU AS NOTED ABOVE. However your data-lists and audio files have been recovered to your account. Your existing loaded phone lists might not be named as originally named, so you may be required re-upload them if you are not able to identify them. The system restore did not retain the original file name.

Passwords, Users and Sub Accounts
If you have multiple users, you will need to check your users. Any user that does not appear will need to be recreated.

Schedules
All schedules for RVM and IVR have been restored but you will need to check over your campaigns, assign a schedule and start your campaign.

Reporting
Your reports will be recovered to your restored account for IVR tomorrow (Monday May 29th.) RVM reporting has already been recovered.

Please log in to your account and review your data, campaigns, users, etc. as some items will require you to re-upload, re-assign or re-build. As noted above, we will be assisting all customers with this process.

Thank You
---
---
---
Campaign Restore Request Form
---
---
---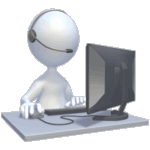 DialerCentral.com (A division of Network Marketing Service Inc.)
303-322-1234



© Copyright 2005 / 2015 - Network Marketing Service Inc.